The Ultimate Guide to LinkedIn: Creating an Account, Benefits for Jobs and Internships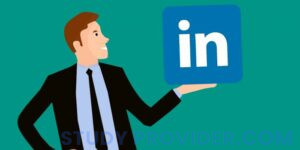 In today's digital age, professional networking plays a crucial role in career development. LinkedIn, a social media platform designed for professionals, is a powerhouse when it comes to job searching, networking, and discovering new opportunities.
In this comprehensive guide, we will delve into the world of LinkedIn, discussing how to create an account with step-by-step examples and highlighting the myriad benefits it offers for job seekers and interns.
What is LinkedIn?
LinkedIn is a professional social network founded in 2002 and acquired by Microsoft in 2016. Unlike other social media platforms, it's tailored for career and business-related activities. With over 774 million members in more than 200 countries, it has become the go-to platform for building your professional brand and connecting with like-minded individuals.
Creating a LinkedIn Account
Getting Started: To create a LinkedIn account, visit the LinkedIn website or download the mobile app from your device's app store.
Sign Up: Click on the "Join now" button and enter your first and last name, email address, and a password. Make sure to use a professional email address, preferably your current or university email.
Profile Information: After entering your basic information, you will be prompted to provide more details for your profile, such as your location, industry, and current position.
Connecting: LinkedIn will suggest connections based on your email address. You can connect with colleagues, classmates, and other professional contacts.
Profile Picture: Add a professional profile picture. A high-quality headshot is recommended, where you are well-dressed and have a clear background.
Summary and Experience: Complete your profile by adding a summary that describes your professional background, skills, and aspirations. List your work experiences, education, and relevant skills.
Customize Your URL: Edit your LinkedIn URL to include your name for easy sharing. This will make it simpler for people to find your profile.
Connections: Start connecting with professionals you know, and expand your network by sending personalized connection requests.
Benefits of LinkedIn for Jobs and Internships
LinkedIn is more than just a digital resume. It offers a wide range of benefits for those seeking job opportunities and internships:
Job Search: LinkedIn is a powerful job search tool. You can search for job listings by industry, location, and company. You can also set up job alerts to receive notifications about new positions.
Networking: The platform is a goldmine for networking. You can connect with professionals in your field, including potential employers, colleagues, and mentors. Engaging in conversations, sharing industry insights, and participating in groups can help you expand your network.
Company Research: LinkedIn provides a wealth of information about companies. You can research potential employers to learn about their culture, values, and recent developments, helping you tailor your applications and interviews.
Recommendations and Endorsements: Colleagues and supervisors can provide recommendations and endorse your skills, which adds credibility to your profile.
Internship Opportunities: LinkedIn is an excellent resource for finding internships. Many companies post internship openings, and you can use your network to discover hidden opportunities.
Professional Development: LinkedIn offers a vast library of articles, courses, and videos to help you stay updated with industry trends and acquire new skills.
Personal Branding: Building a strong LinkedIn profile allows you to showcase your expertise and personality. It's a platform where you can demonstrate your thought leadership through posts and articles.
Job Alerts: Set up personalized job alerts to receive notifications when a new job matching your criteria is posted.
why a student need linkdin account ?
A student can benefit significantly from having a LinkedIn account for several reasons. LinkedIn is not just for established professionals; it's also a valuable platform for students and recent graduates. Here are some compelling reasons why a student should consider creating a LinkedIn account:
Networking Opportunities: LinkedIn provides an excellent platform for students to start building their professional network even before they graduate. Networking is a crucial aspect of career development, and having connections in your field of interest can open doors to internships, job opportunities, and valuable advice from experienced professionals.
Internship Opportunities: Many companies and organizations post internship openings on LinkedIn. By having a LinkedIn account, students can easily find and apply for these positions. Additionally, you can use your network to discover hidden internship opportunities that might not be advertised elsewhere.
Researching Companies: Students can research companies they are interested in for internships or future employment. You can follow company pages to stay updated on their latest news, job openings, and corporate culture. This information can be invaluable when deciding where to apply and for interview preparation.
Showcasing Skills and Achievements: A LinkedIn profile serves as an online resume that allows students to showcase their skills, achievements, and academic accomplishments. You can list your education, coursework, projects, and extracurricular activities to make a compelling case to potential employers or internship providers.
Recommendations: Students can request recommendations from professors, mentors, or colleagues. Positive recommendations on your LinkedIn profile can provide evidence of your skills and character, which can be particularly helpful when you're just starting your career journey.
Learning and Professional Development: LinkedIn offers a wealth of educational resources, including courses, articles, and webinars. Students can use these resources to acquire new skills, stay up-to-date with industry trends, and bolster their qualifications.
Jobs Alerts: By setting up job alerts on LinkedIn, students can receive notifications when job openings in their field are posted. This makes it easier to stay informed about opportunities that align with their career goals.
Building a Personal Brand: Having a LinkedIn account allows students to create and nurture their personal brand. By posting content, sharing insights, and engaging in discussions, students can establish themselves as thought leaders in their areas of interest.
Career Guidance: LinkedIn is a platform where students can seek advice and guidance from experienced professionals in their chosen field. You can connect with alumni from your school or individuals who have achieved career success and request informational interviews to gain insights into your desired industry.
Visibility to Employers: Employers and recruiters often use LinkedIn to find potential candidates. By having an optimized profile, students increase their chances of being discovered by employers seeking interns or entry-level employees.
In conclusion, a LinkedIn account is a valuable tool for students that can help them prepare for their careers, connect with professionals, find internships, and explore job opportunities. It's a versatile platform that allows students to build their online presence, learn, and make connections that can benefit them both during their academic journey and in their future careers.
How to create a  LinkedIn Profile for fresher
Creating a good and attractive LinkedIn account as a student is essential to make a positive impression on potential employers, colleagues, and recruiters. Follow these steps to ensure your LinkedIn profile stands out:
 Profile Picture
– Use a professional, high-quality headshot. Dress appropriately and ensure good lighting.
– Avoid using casual or social pictures.
 Cover Photo
– Use a cover photo that reflects your personality, interests, or career aspirations.
– Consider an image related to your field of study or career path.
Headline
– Craft a compelling headline that summarizes your career goals or what you're studying.
– Include keywords related to your field of interest.
Summary
– Write a concise and engaging summary. Share your career goals, passions, and what you can offer.
– Highlight key skills and achievements.
– Use a professional tone and avoid jargon or excessive technical details.
Education
– List your current and past educational institutions.
– Include your major, graduation date, and any relevant honors or awards.
– Mention coursework or projects that relate to your career path.
Skills
– Add skills that are relevant to your field. Choose a variety of hard and soft skills.
– Ask connections to endorse your skills to add credibility.
Recommendations
– Request recommendations from professors, mentors, or colleagues.
– Personalize your request, and provide guidance on what you'd like them to highlight.
Accomplishments
– Highlight any certifications, awards, publications, or projects.
– Include languages you speak and any relevant organizations or volunteer work.
Volunteer Experience
– Showcase any volunteer work you've done, as it reflects positively on your character.
– Describe your roles and responsibilities.
Articles and Activity
– Share or write articles, engage in discussions, and comment on relevant posts to demonstrate your knowledge and engagement in your field.
Custom URL
– Personalize your LinkedIn URL with your name to make it easier to share.
Connect Strategically
– Connect with classmates, professors, professionals in your field, and alumni.
– Personalize your connection requests by mentioning how you know or why you'd like to connect.
 Be Active
– Regularly update your status, share interesting articles, and comment on or like posts in your field of interest.
– Engage in LinkedIn groups and discussions related to your area of study or career path.
Privacy Settings
– Adjust your privacy settings to control who can see your connections and updates. This can be particularly important if you're job hunting.
 Consistency and Accuracy
– Ensure that the information on your LinkedIn profile matches your resume and other professional profiles.
Proofread
– Thoroughly proofread your profile for grammar and spelling errors. Typos can detract from your professionalism.
By following these steps, you'll create a LinkedIn profile that not only looks impressive but also effectively communicates your skills, aspirations, and potential to future employers, colleagues, and professional connections. Your LinkedIn profile is a powerful tool in your career journey, so invest the time and effort to make it the best it can be.
How to create a  LinkedIn Profile for professional
To maximize your visibility on LinkedIn, it's essential to optimize your profile for search engines and for human readers. Here are some SEO-friendly tips:
Use Keywords: Incorporate relevant keywords in your profile summary, headline, and experience sections. For instance, if you're a marketing specialist, include keywords like "digital marketing," "SEO," and "content marketing."
Customize Your URL: As mentioned earlier, personalize your LinkedIn URL with your name. This not only makes your profile more shareable but also aids in SEO.
Engage with Content: Actively engage with relevant content on LinkedIn. Liking, commenting, and sharing posts related to your field can increase your visibility.
Regular Updates: Regularly update your profile with new skills, certifications, and experiences. This not only helps your network stay informed but also signals to search engines that your profile is active and relevant.
Rich Media: LinkedIn allows you to include rich media in your profile, such as videos, presentations, and links to articles. This can make your profile more engaging and informative.
Join Groups: Participate in LinkedIn groups related to your industry. Engaging in group discussions and sharing your insights can boost your profile's SEO.
Experience: Include relevant part-time jobs, internships, volunteer work, or freelance projects.Use bullet points to describe your responsibilities and achievements. Quantify your accomplishments with numbers or percentages when possible. Emphasize skills and experiences that are relevant to your career goals.
Recommendations: Encourage colleagues to write recommendations for you. Positive recommendations add credibility to your profile.
LinkedIn is a valuable resource for professionals, job seekers, and interns. With a well-optimized, you can enhance your online presence, connect with industry peers, and access countless opportunities for your career.
Remember that your LinkedIn journey doesn't end with creating a profile. Actively engage, network, and share your expertise to make the most of this powerful platform. So, go ahead, create your LinkedIn account, and open doors to a world of professional possibilities. Your dream job or internship might be just a connection away!
Also Read
https://studyprovider.com/how-to-download-form-16b-tds-certificate/
https://studyprovider.com/indian-army-tes/
https://studyprovider.com/a-successful-computer-software-developer/